Buddhism in Cuddalore, Tamil Nadu
The presence of Buddhism in the Cuddalore district of Tamil Nadu is evident from ancient statues of Buddha found in Thiruvathigai and Pennadam, as well as from the local legends related to the Veerattaneswarar temple.
Thiruvathigai

In the Cuddalore district of Tamil Nadu, we came across two ancient Buddha statues. One of them is on the premises of Veerattaneswarar Temple in Thiruvathigai near the town of Panruti. It is a big statue of around 5ft in height. From the style of the statue, it can be dated to be from the 11th-12th Century period. The statue is now kept on a newly built lotus pedestal. The local legends of this place say that it was once a Buddhist stronghold. Lion carvings similar to those seen on the pedestals of Buddha statues can be seen on a stone block used in the steps of one sub-temple in Veerattaneswarar Temple complex in Thiruvathigai.
Pennadam
The second Buddha statue is in the town of Pennadam. It is peacefully sitting by the streetside, over a storm-water drain, in a small narrow lane in a residential area. That street is now named 'Buddhar street'. It is a beautiful statue of around 4.5 ft in height. From the style of the statue, it may be dated to be from the 8th-10th Century period.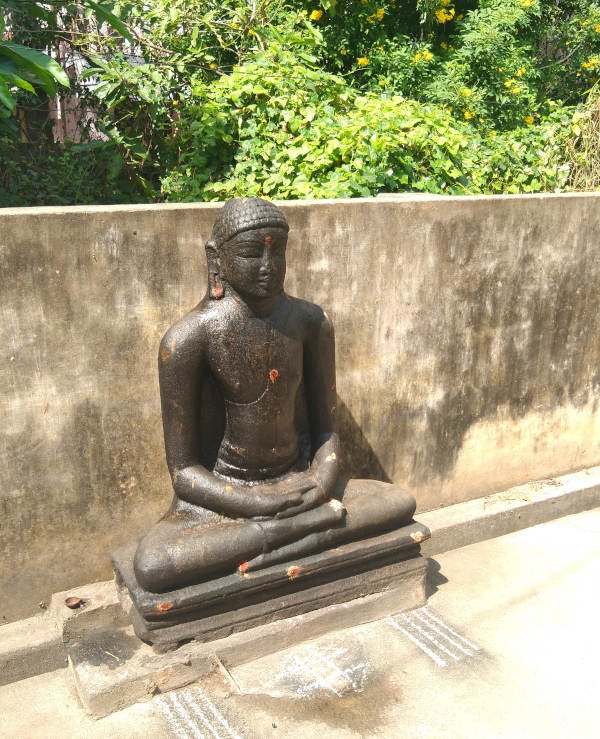 The locals said that they discovered this statue when someone dug the ground for constructing a house. This plot was near the beginning of the lane near the main road. Those people then kept the Buddha in front of the nearby vacant site. Later, when that plot owner constructed his house, the Buddha was moved to the next available vacant site and so on. When we visited, it had already traversed quite a distance inside the lane. Hopefully, the locals will find a better place for the Buddha.
Latest posts by Yogi Prabodha Jnana & Yogini Abhaya Devi
(see all)