Ancient Buddha Statues of Pondicherry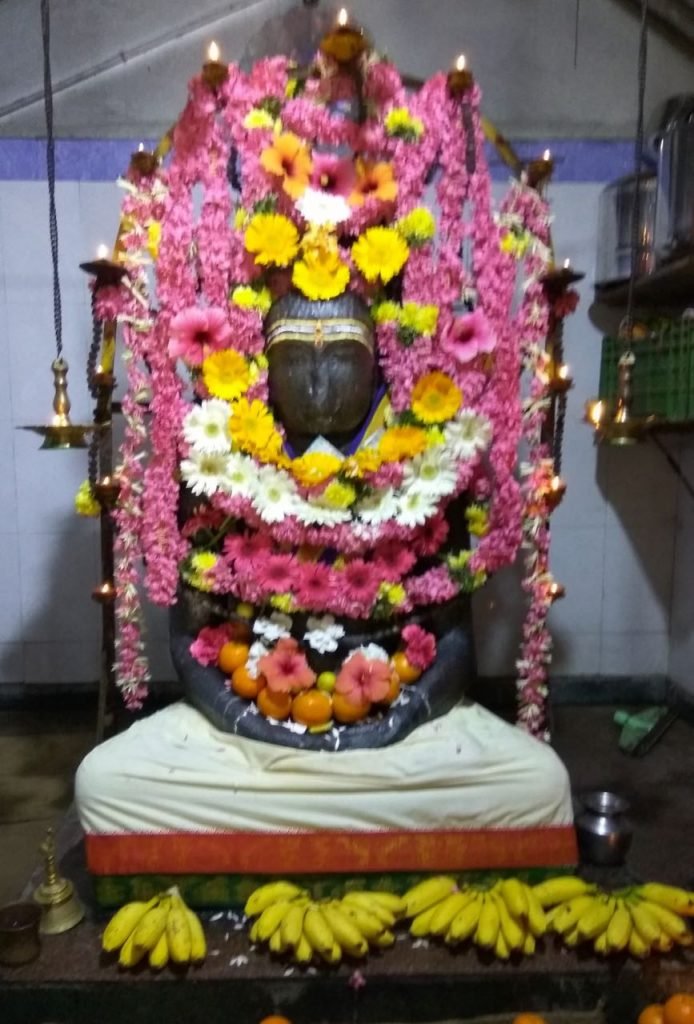 Our exploration of the ancient Buddha statues of Tamil Nadu took us to Ariyankuppam in Pondicherry (Puducherry). Ariyankuppam literally means 'the place of the noble ones'. In the South Indian context, it is a clear reference to the presence of a Buddhist Monastery in the long past. As expected, there is an ancient Buddha statue from the 12th Century CE (AD) in this place. In fact, a 1960 paper [Ref1] by P.R. Srinivasan mentions about two statues in Pondicherry – one at Arikamedu (Ariyankuppam) and another at Karardikuppam (possibly the present day Karuvadikuppam). We could not trace the Karadikuppam statue and it is probably missing.
The one at Ariyankuppam, about 5' in height, is now hosted in a recently constructed Brahma-Rishi temple. The priest of the temple regards it as Brahma-Rishi though the neighborhood is aware that it is a Buddha statue. Anyway, he is taking care of the statue very nicely, with a beautiful arrangement of flowers and offerings of fruits and lamps. He also insists that the visitors to his temple make it a point to sit there in front of the statue and meditate for some time. He generously gave us a bag full of fruits from what he offered to the statue. He said that there is not much interest among the locals to visit his temple, and mostly people from other states visit.
The site of this Buddha statue is adjacent to the Arikamedu archeological site. There was an important Greco-Roman trading post there, between 1st Century BCE and 1st Century CE. This place was then known to the Greco-Romans as the City of Poduke, one among three main ports of South India (the other two being Poompuhar in Tamil Nadu and Muziris in Kerala) [Ref 2]. Even after the decline of the Greco-Roman trade, civilization continued at Arikamedu without break and the trade continued with China, Arab, etc. Excavations by the Archeologists between 1989 – 1992 revealed many artifacts such as pottery, beads, etc. dating from 3rd Century BCE to 15th Century CE. One theory regarding the etymology of the name Arikamedu is that it originates from the Tamil word Arugan which is used to refer to Sramanas such as Buddhist and Jains [Ref 2]. So, it is possible that Arikamedu / Ariyankuppam was a vibrant centre of Buddhism, in addition to being a port city. Ruins of an 18th Century French Mission House (Jesuit Seminary) also stands at the archeology site.
Pondicherry Museum also has two headless Buddha statues and a Buddha head. It is not known from where these statues at Museum were obtained. Unfortunately, the museum statues are in a discarded condition with paint-spills over the statue and a hose running over it.
Ref1 – 'Buddhist Images of South India, by P.R. Srinivasan, in the proceedings, 'Story of Buddhism with Special Reference to South India', edited by A. Aiyappan and P.R. Srinivasan, published in 1960 by the Department of Information and Publicity, Govt of Madras]
Ref2 – 'Arikamedu: Ancient port city of India' by Suresh Pillai (from academia.edu)
Latest posts by Yogi Prabodha Jnana & Yogini Abhaya Devi
(see all)