Ancient Buddha Statues of Kerala
Many ancient Buddha statues, dating back to 6th Century CE were discovered from various parts of Kerala. During their glorious period, for many centuries, these statues would have inspired an entire populace. From their inner space of calmness and compassion, these Buddha statues smile to the world even today as the embodiment of peace, sublime thought, and the excellence of intellectual climate that prevailed in the region in the foregone eras. These idols reveal that there existed a culture in Kerala too that derived inspiration from the words of the Buddha and transcended the barriers of caste and dogmatic thinking.
Let us be clear about a fact right from the beginning. The foundation of Buddhism is not in statues or any other icons, but in awakening oneself to Buddhahood. Buddhists find delight in working beyond religious frameworks with wakeful awareness and a blossoming heart. The role of statues are only in instilling in us the qualities that the Buddha embodied – peace, compassion, clarity of mind and the triumph over emotions. It is never to be taken as another object of attachment and negative emotions. Even if there are no statues, a Buddhist can pursue his/ her path to awakening. The greater significance of these statues is rather in understanding the history of Kerala. These statues should be preserved as fitting memorials of our heritage.
These Buddha statues also tell some stories.

Firstly, most of the discovered statues are from the period 6th to 9th century CE. That means, there were Buddha statues in Kerala before and after Sankaracharya of Advaitha darshana. Further, the history of the renowned Sreemoolavasa indicates that Buddhism flourished well in Kerala even in the 11th Century. From these, it is clear that the popular story about Sankaracharya defeating Buddhists in philosophical debate and making them run away is just a cooked up one with no basis. (Further, no strong arguments are found in the works of Shankara that can defeat the Buddhists in their philosophical view.) It is more likely that Buddhism vanished from Kerala in the 12th – 14th century CE after the decline of Ay, Ezhimala and Kulashekhara kingdoms.
Another fact is that, most of these statues were found from temple ponds. Temples in Kerala are called Anpalam (anpu+alam). In Tamil (the language of Kerala too on those days) the meaning of anpu is loving-kindness and the meaning of alam is place. So Anpalam means the 'place of loving-kindness'. Later when Buddhism declined and Kerala became infested with the disease and madness of caste and religious divisions, these statues were most probably shifted from the temple sanctums to the temple ponds outside. Even today, the temples of Kerala, in contrast with other parts of India, continues to be called Anpalam/ Kshetram. This may be due to the continuation of the Buddhist influence in culture and language. In Mahayana Buddhist literature, Kshetra (domain, field, dwelling place) is widely used to denote Buddhakshetra (dwelling place of the Buddhas), Punyakshetra (the field towards which meritorious deeds are performed) etc.
Another interesting fact is that most of the Buddha statues were found around the old kingdom of 'Onattukara' that had its capital at Mavelikkara. Onam and its legends associated with king Maveli even now fill the minds of Keralites with the memories of a foregone era of equality, truthfulness and righteousness. This may not be a mere coincidence. It may be indicative of a kingdom ruled with the Buddhist ethos of "abandon negativity, abide in wholesome deeds and perfectly conquer one's own mind". Possibly, the regions of Onattukara and Kollam would have been the places where the lamp of Dharma had its final glimmerings before its complete fading away from the land of Kerala.
Most of the places from where these statues are discovered have some locality or pond named as 'Pallikkal'. In ancient times, the word 'Palli' was used in Kerala to denote Buddhist monasteries. There are at least three more places in Kerala with the name Pallikkal. It may be worthwhile to conduct some archeological investigations and excavation in the ponds and nearby areas there in search of historic remnants of Buddhism in Kerala.
The details about the six statues that we got a chance to visit are given below
From Pallikkal pond in Maruthoorkulangara, Karunagapalli (Kollam district) – Kayamkulam Buddha
Pallikkal 11 km west of Adoor (Kollam district) – Napier Buddha
Thazhathukulakkada in Mannadi (Pathanamthitta distric) – Mannadi Buddha
Pallikkal 5.5 km east of Kayamkulam (Alappuzha district) – Bharanikkavu Buddha
Kandiyoor Temple pond (Alappuzha district) – Mavelikkara Buddha
From 4.7 km east of Ambalappuzha – (Alappuzha district) – Karumadi Buddha
Maruthurkulangara (Krishnapuram palace Museum, Kayamkulam)
This Buddha statue, around 4 ft in height, is nicely preserved in the garden of Krishnapuram palace Museum in Kayamkulam. This was discovered around a century back from the Pallikkal pond in Maruthoorkulangara in Karunagapalli (Kollam district). Known from then on as 'Pallikkal puthran', it was earlier kept in Padanayarkulangara. Later it was handed over to the archeological department and taken to Museum. This statue is significantly different from the other statues discovered from Kerala in its details. The upper robe is not folded up. It is similar in style to the Gandharan Buddha statues. From the style of sculpture it is clear that it was made in CE 6th – 7th century or before. The Pallikkal pond in Maruthoorkulangara, from where this statue was rediscovered, is now developed as a heritage park by the city corporation.
Pallikkal (Kattanam Bharanikkavu)
This statue, around 3 ft in height, is now kept in the compound of Bharanikkavu Devi Temple on the side of the Kurathikad-Kattanam road. It was discovered from a temple in Pallikkal, 5.5 km east of Kayamkulam. This statue has its upper robe folded and kept on the shoulder like most other Buddha statues in Kerala. From the style of sculpture, it can be inferred to be from 9th to 10th century CE. This statue is not preserved in a fitting way.
Mavelikkara
Mavelikkara Buddha

Mavelikkara Buddha
This statue, around 3 ft in height, is presently kept in the Buddha junction near Shrikrishna Temple, Mavelikkara. It was discovered from the Temple pond of Kandiyoor Mahadeva Temple. This statue has upper robe folded and kept on the shoulder like most other Buddha statues in Kerala. From the style of the statue, it could be from the 9th to 10th century CE.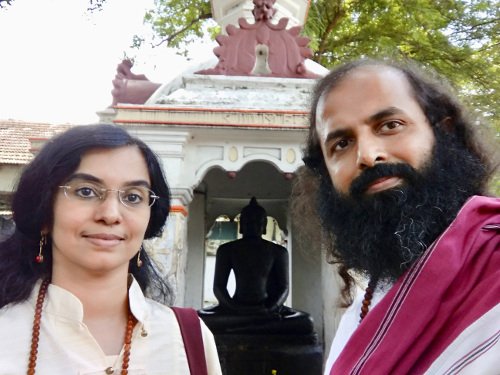 Karumadi, Ambalappuzha
Karumadi Buddha

Karumadi Buddha
This half statue renowned as Karumadikuttan was the first statue rediscovered in Kerala. From the style of sculpture, it can inferred that it was made in the 8th century CE. When this statue was found from the fields more than a century ago, people had no idea that it was a Buddha statue. So, it was worshipped as a local god who protected the rice fields nearby. Later, upon identification of it as a Buddha statue, a beautiful Stupa structure in Srilankan style was made in a park and the statue was preserved there. Local people told us that HH Dalai Lama visited this statue long back and offered some money to build a stupa to preserve this statue. Though it is only a half statue, it is currently the best preserved Buddha statue in Kerala. It has also achieved some cultural significance compared to other Buddha statues.
Pallikkal, Kunnathoor (Thiruvananthapuram Napier Art Museum)
This Buddha statue, around 2.5 ft in height, was found from Pallikkal in Kunnathoor, 11 km west of Adoor. It was discovered in headless condition. The present head is a badly reconstructed substitute by the archeological department. From the style of the sculpture, it can be inferred to be from 9th to 10th century CE. It is presently kept in Napier Art Museum, Thiruvananthapuram.
Mannadi
Mannadi Buddha

Mannadi Buddha
This statue was discovered from the sand-bed of the Kallada river near Mannadi by sand mining workers. It was later kept in Thazhathukulakkada public library grounds. In 2010 archeological department took over the statue and it is presently preserved in the Veluthampi Dalawa Memorial in Mannadi. This statue is around 2ft in height. Although it is identified by historians as a Buddha statue, some of its features are similar to that of Bodhisattva statues like the meditation-belt and ear rings. He is seated in ardhapadmasana and has Ushnisha and lotus seat. Most probably the broken right hand was in boon giving gesture (varada mudra).
A list of the rest of Buddha statues are given below.
More details will be added as and when we visit them.
A headless Buddha was excavated from Kottappuram, Kodungallor (Thrissur district), by archeological department as part of Muziris project.
Buddha found in the banks of Varattar river near Mangalam Thevarkkadu Subrahmanya Temple near Chengannoor (Alappuzha district).
Buddha in the Kovilkadavu Temple in Marayoor (Idukki district).
Buddha head excavated from Thuruthupply, Perumpavur (Ernakulam district) by archeological department as part of Muziris project.
Buddha kept in a house in Onampilli in Kaladi (Ernakulam district).
Portions of a Buddha statue kept outside a temple in Nileshwaram, Pattanam (Ernakulam district).
Latest posts by Yogini Abhaya Devi
(see all)