Buddhism in Kanchi – An Ancient City of Learning
Kanchi (Kanchipuram) in Tamil Nadu was the most significant Buddhist center of learning in South India. Kanchi produced world-renowned scholars and masters of Buddhism such as Bodhidharma, Dignaga, Dharmapala, Buddhaghosa, etc., spanning across Sravakayana and Mahayana. It is also one of the twenty-four power places of the dakini (the spontaneous play of the basic space) according to Vajrayana Buddhism. Guru Padmasambhava too visited Dravida land and turned the wheel of Vajrayana there. For an enthusiast in Buddhist history, Kanchi remains a treasure trove of Buddhist statues and other pieces of archeological evidence still being uncovered.
There is so much to tell about this one place, Kanchi, that we could not make this writeup any shorter :). All through in Kanchi, we can see statues, motifs, pillars, etc., that have something to tell about its Buddhist past. We can spot ancient Buddha statues enshrined even in a police station and a school.
Buddhist History of Kanchi
Kanchi rose to fame as a Buddhist center right from the 2nd Century BCE, when Poompuhar, the earlier center in Tamil Nadu, submerged in the sea. Buddhist presence in Kanchi finds mention in many Tamil Sangam texts like Manimekalai, Silappatikaram, and Maduraikkanchi. According to the Tamil epic Manimekalai, the Buddhist master Aravana Adigal was staying in Kanchi, and he guided the protagonist, Manimekalai, in the path of Buddhism. Manimekalai, according to the epic, is a Bodhisattva Bhikshuni who spreads her compassionate activities to alleviate the suffering and hunger of many and finally attains nirvana at Kanchi.
By the time Xuanzang, the Chinese monk-traveler (7th century CE) visited Kanchi, it was at the height of its glory. He recorded [Ref-1] about hundreds of Mahayana viharas and 10,000 monks there. Xuanzang also mentions about a 100 ft high Stupa built by Ashoka in Kanchi. About people of Kanchi, Xuanzang wrote, "People there are courageous. They deeply hold the principles of honesty and truth, and highly respect learning. The monks there belonged to Mahayana and practiced the Vinaya of Sthavira school." Xuanzang also reported that there were about 80 Deva temples and many Nirgranthas (Jains).
As we shall see, other reliable records indicate that Buddhist Mahayana monasteries remained active in Kanchi even up to the 14th Century CE.
Kanchi produced many great Buddhist masters and philosophers. Bodhidharma, the founder of Zen Buddhism is said to be the son of the king of Kanchi (possibly a Pallava king). The world acclaimed Buddhist logician Dignaga is also from Kanchi. His disciple Dharmakirti is from a nearby place, Trimala (Thirumala / Thirupathi). Aryadeva, the famed disciple of Acharya Nagarjuna is also said to have lived in Kanchi during his last days. Dharmapala, an abbot of Nalanda and a great master of Yogacara Buddhism was also from Kanchi. He was the main teacher of Xuanzang. Kanchi also produced Buddhaghosa, the author of Visuddhimagga, an acclaimed practice manual of Theravada tradition. Dhammapala, another famous commentator of Pali Suttas and Anuruddha Thera, the author of Abhidhammatthasaṅgaha were also from Kanchi. According to the Vajrayana tradition, Siddha Nagarjuna, one of the 84 Mahasiddhas was also from Kanchi.
According to Tibetan Buddhist master Jetsun Taranatha, Guru Padmasambhava (Guru Rinpoche) visited the Dravida land (Tamil Nadu) in the 8th Century and taught Sutra and Vajrayana Buddhism there for 12 years. Taranatha narrated this based on the accounts of Indian masters that he could access in the 16th Century. Since in the 8th Century Kanchi was one of the most important Buddhist centers in the Dravida land, Padmasambhava would have blessed Kanchi with his presence and taught there. According to Taranatha, even at his time (16th-17th Century CE), Guru Rinpoche's lineage of Vajrayana practices was active in Dravida land.
As per the inscriptions from the excavation of a renowned Buddhist vihara at Kurkihar near Gaya, Bihar (9th/11th Century CE), many statues found there were donated by people from Kanchi. This indicates that Kanchi was flourishing with Buddhism even in that period. In the 13th Century, Marco Polo, the European traveler, saw seven Pagodas (chaithyas) on the seashore of Mahabalipuram near Kanchi. In the 14th Century, an eminent poet of Java mentioned in his writings about the presence of thirteen Buddhist monasteries in Kanchi [Ref-2, p. 97]. According to a 14th Century inscription in Korea, Dhyanabhadra from Kanchi went to Korea in 1370CE and established a Mahayana monastery (Zen / Seon) there [Ref-3, p. 7]. The inscription also mentions that he received the teaching of Avatamsaka Sutra in Kanchi. All these records indicate that Buddhism was very much alive in Kanchi even in the 14th Century, though in a phase of gradual decline.
Some of the ancient Viharas (Buddhist monasteries) of Kanchi that find mention in historical works are Raja Vihara and Mulasoma Vihara. None of them are as such identifiable now. An 11th Century Manuscript of Prajna-paramita-sutra obtained from Nepal [Ref-4], has a miniature painting of a statue of Vasudhara Tara from a renowned Mahayana Vihara in Kanchi.
Kanchi as One of the 24 Power-places
According to Vajrayana Buddhism, Kanchi is one of the twenty-four sacred power places. As per many Vajravarahi and Chakrasamvara Sadhanas Kanchi is the heart of the Dakini (the spontaneous play of the basic space) and a sacred place of Dakinis (where the vibrancy of wisdom activities naturally plays out). Even according to some of the Tantras revealed in Tibet, e.g., Yumka Dechen Gyalmo of Longchen Nyingthik, Kanchi is at the heart of the dakini (Yumka, the Great Bliss Queen).
The Current Structure of Kanchi
As of now, Kanchi has two main areas, Siva Kanchi and Vishnu Kanchi, dedicated to many temples of Lord Siva and Lord Vishnu respectively. There is also a Jina Kanchi where two Jain temples exist even today. We do not find a separate Buddha Kanchi here now, however, Buddha and Bodhisattva statues and motifs can be seen all around the present-day Siva Kanchi and Vishnu Kanchi.
Buddha Statues of Kanchi
The following is the list of archeological evidences that still remain of the grand and vibrant presence of Buddhism in ancient Kanchi. We explored these with the purpose of revealing history. However, the essence of Buddhism is not about statues but about cleansing our minds. And, hence there is no intention of making claims on statues or places. Read Dealing with History without Attachment for more details on how to stay clear of afflictive emotions and deal with History without attachment.
1. Two Buddha statues from Kanchi Kamakshi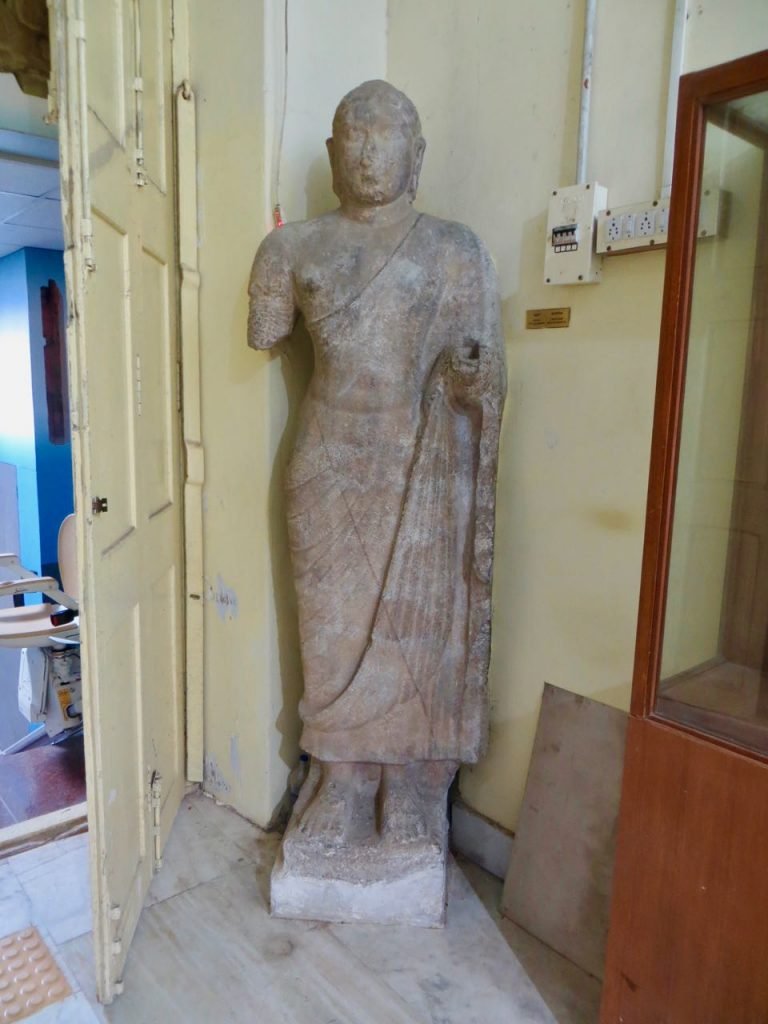 The earliest of the Buddha statues found from Kanchi is a standing Buddha statue from the 5th Century CE of a majestic height of 8ft. It resembles Amaravati and Gandhara statues in style. This is now kept in the Chennai Museum. According to the archeologist Gopinatha Rao (d. 1919) [Ref-5, p.128], during his time, this statue was in the inner prakara of the Kanchi Kamakshi Temple in Siva Kanchi. One more Buddha statue was found in the outer prakara in a broken condition. Gopinatha Rao inferred that Kanchi Kamakshi Temple was originally a temple of Tara. When we correlate with other connections that can be seen, a link to Vajrayana Buddhism can be inferred for this temple. The principal deity of this temple is Kamakshi (meaning, the passionate eyed one). They practice Srividya tantra (which in Tibetan means,དཔལ་ལྡན་རིག་པ) and the tantric deity according to that tantra is Lalita Tripura Sundari (ཁམས་གསུ་རོལ་པའི་མཛེས་མ།). Nature and hand emblems of Kamakshi are same as Kurukullā (Red Tara) of the Vajrayana Buddhist tantras. The emblems are — hook (ankusha), noose (pāśa), flower-arrow and sugarcane-bow. However, the current idol is in a formal sitting posture, not in the usual dynamic form of kurukullā. There were also two miniature Buddha carvings (one sitting and one standing) on a stone pillar of the temple when we visited in 2012.
2. Buddha statues from a school
Another one of the earliest of the Buddha statues of Kanchi is kept in Govt. C. M. Subbaraya Mudaliyar Higher Secondary School, next to Kanchi Kamakshi Temple. This statue is from the 5th-6th Century CE and is of a height of 5'6". According to Gopinatha Rao [Ref-5, p.129], this statue was in a garden adjacent to Kanchi Kamakshi Temple. Probably, the school came up in the garden later. The earlier photos of this Buddha that we could access are with his eyes closed. Recently, someone seems to have tried to 'improve' it by chiseling open the eyes. According to Gopinatha Rao, there are two more Buddha statues under the soil there yet to be excavated. Even though more than 100 years have passed, it is still not excavated. (Gopinatha Rao was an archeologist during the British rule.)
3. Buddha statues at Karukinil Amarnthaval Amman Temple
Two Buddha statues got from the vicinity of this temple are kept there for safe-keeping. One with Bhumisparsha mudra and the second one in dhyana mudra.(Both from the 12th Century CE. One of height 3'9" and another of 2'6".)
In fact, more than 100 years back, Gopinatha Rao [Ref-5, p.129] also reported that the statues were kept there for safe-keeping.
4. Buddha at Police Station
Siva Kanchi Police Station, adjacent to Kanchi Kamakshi Temple also hosts one of the ancient Buddha statues unearthed from the vicinity. This was installed in the police station in a mandapa, as desired by Walter Dewaram, the then DGP of Tamil Nadu. According to archeologists, this statue is from the 11th Century period.
5. Buddha statues of Pallur
In the outskirts of Kanchi, at Pallur, three Buddha statues were unearthed from the fields more than a hundred years ago. These could be from the 10th-12th Century. In 1999, a new Buddhist temple was constructed and the Buddha statues are installed in that hall.
6. Buddha statue at Kanikiluppai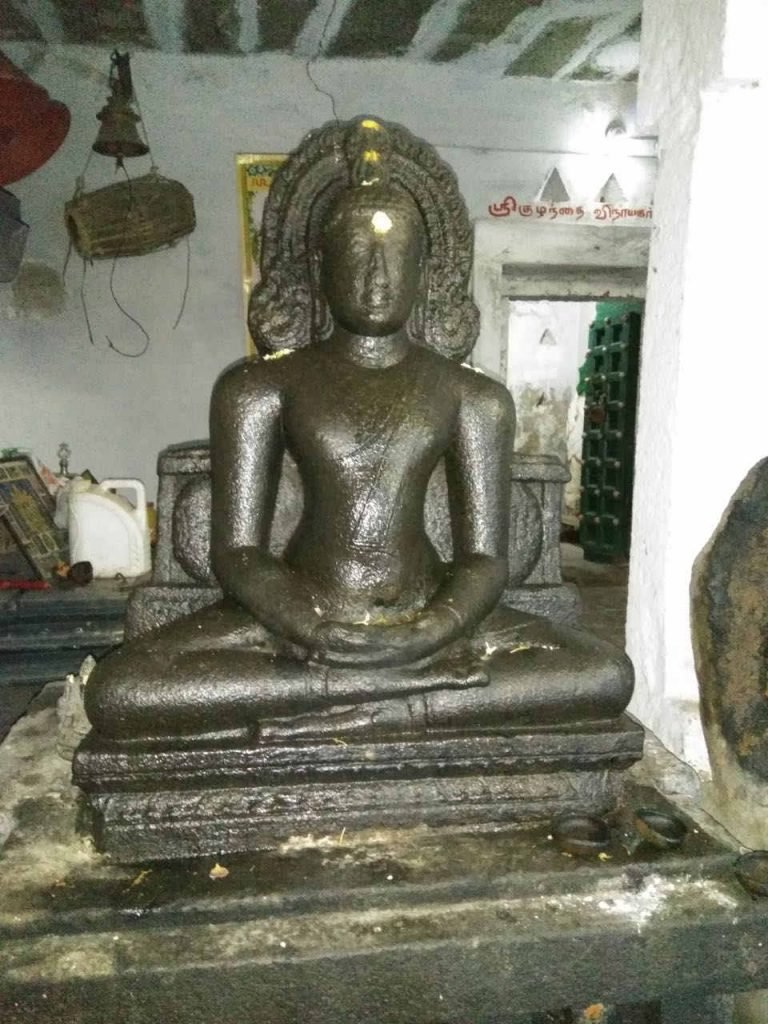 In the outskirts of Kanchi, at Kanikiluppai a Buddha statue was discovered from the fields. (belonging to the 10th-12th Century period). A statue of a Jain Tirthankara was also obtained. These statues were stolen once in the recent past and then recovered by the police. Since then, both of these are kept inside a Pillayar (Ganesha) Temple in Kanikiluppai for safe-keeping till a separate shrine could be made for these statues. There is also a pillar in the vicinity that is either a Buddhist or Jain one.
7. Reclining Buddha (lost) at Ekambareswarar Temple
The compound wall of Ekambareswara Temple uses many large stone bricks with carvings of the Buddha. (from the 14th century according to archeologists). These Buddha carvings are not in a particular order, so most likely this was simply the reuse of the stone blocks from a dilapidated Buddhist structure. There was a large reclining Buddha statue lying in the temple compound earlier [Ref-6]. According to the archeologists, this was from the late Chola period (11th to 13th Century). However, this is lost now. It could not be traced to any museum and nobody knows where it went.
8. Buddha pillars at Kachapeshwarar Temple
Many images of Buddha, Bodhisattvas and Buddhist Yogis can be seen chiseled in the pillars of Kachapeshwarar Temple in Kanchi. These pillars do not have a particular order, and it looks like that they were adjusted in height post-sculpting to fit for the current mandapa. From this, it may be inferred that these could be the reuse of the pillars from an earlier dilapidated Buddhist structure.
9. Avalokitesvara and two Dharma-chakras pillars at Enathur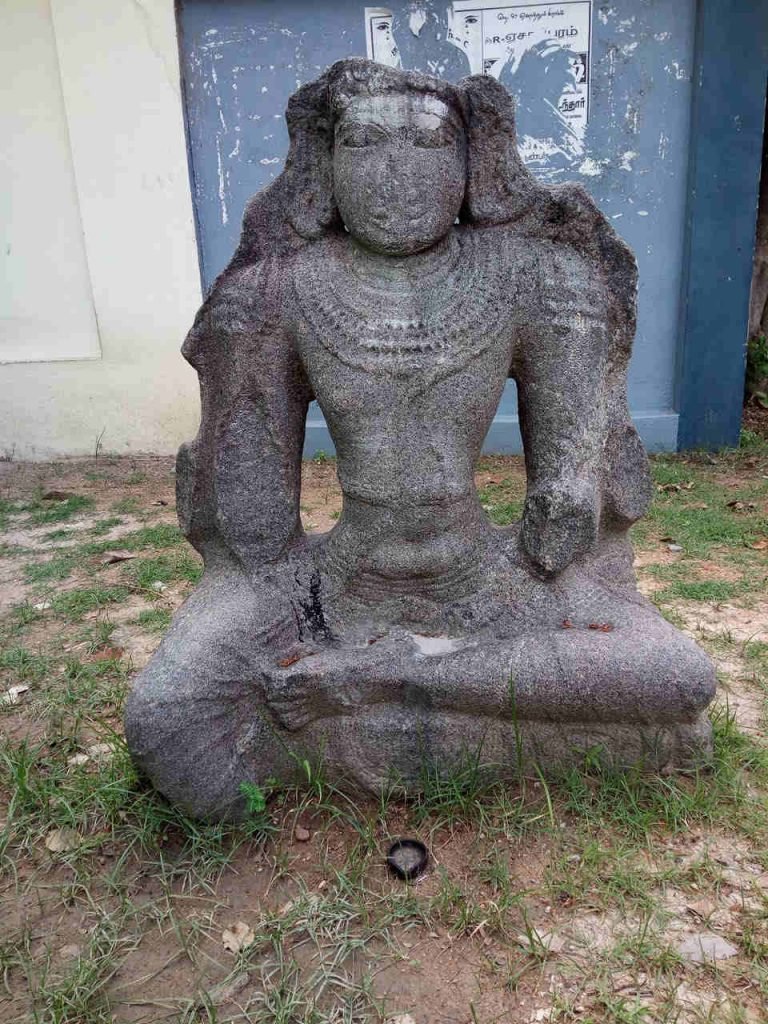 A broken statue and a pillar with dharma-chakra are abandoned near the road-side in Enathur. The statue seems like that of Avalokitesvara in a four-handed form. There is also another Dharma-chakra nearby that is enshrined as a small temple and people worship that. The shrine is named as 'Sannyasi-amman Alayam'.
A dharma-chakra pillar in Enathur, Kanchi.

A dharma-chakra pillar enshrined in 'Sannyasi-amman Alayam', Enathur, Kanchi.
10. Buddhist Dhamma centre at Konerikuppam
An ancient pillar with the carvings of Buddha and Bodhisattvas and another Buddha head are preserved in a new Dhamma centre at Konerikuppam. Mr. Chandrashekar and his wife started this centre many decades back when they got an ancient Buddha head abandoned under a tree. He added a body to that and enshrined it. Later, he chanced upon an ancient pillar that was used as a stepping stone in front of a shop. The pillar had the images of the Buddha and a Bodhisattva (possibly Maitreya). He salvaged that and installed that too in front of his temple.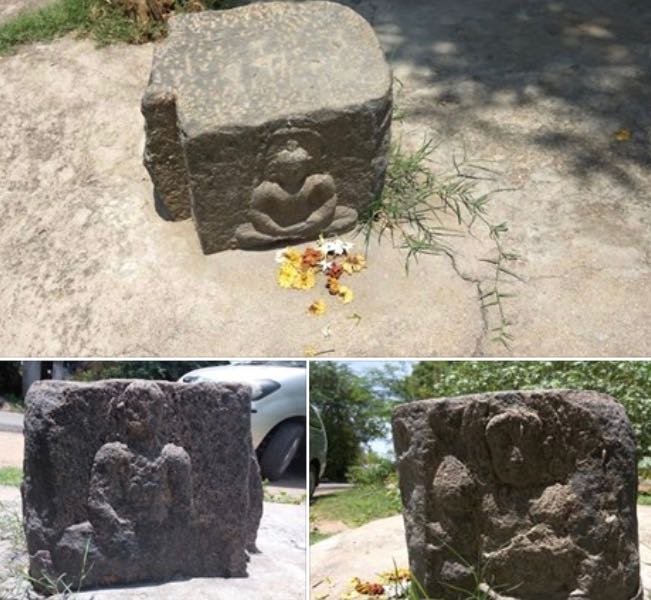 11. Buddhas in Arpakkam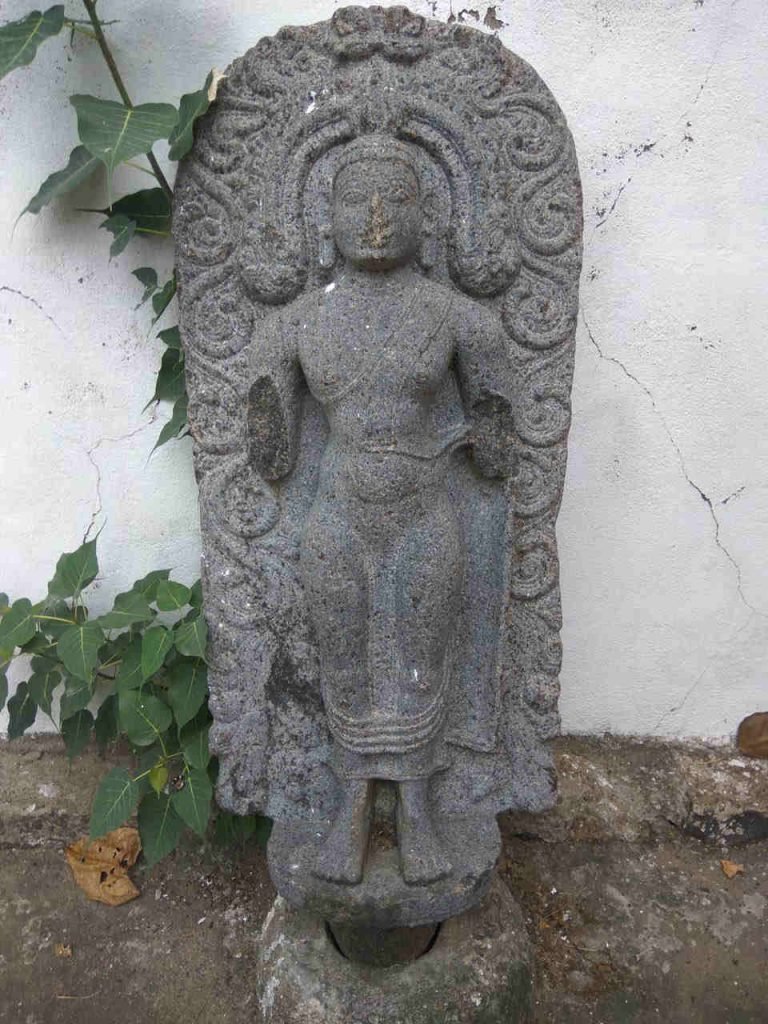 In the outskirts of Kanchi, in Arpakkam, there is a small standing Buddha statue (of about 2ft) kept in the corner of a Perumal (Vishnu) temple. There was also a bigger sitting Buddha statue kept within this temple earlier. However, that was stolen and not yet recovered. A third one, a headless Buddha statue is lying in the jungle just outside the temple. There is also a pillar with dharma-chakra carving near that place. Locals worship the pillar as a guardian deity.
Lost Buddha statue from Arpakkam in the outskirts of Kanchi.

A headless Buddha statue at Arpakkam in the outskirts of Kanchi.
12. Buddha statue from Koovam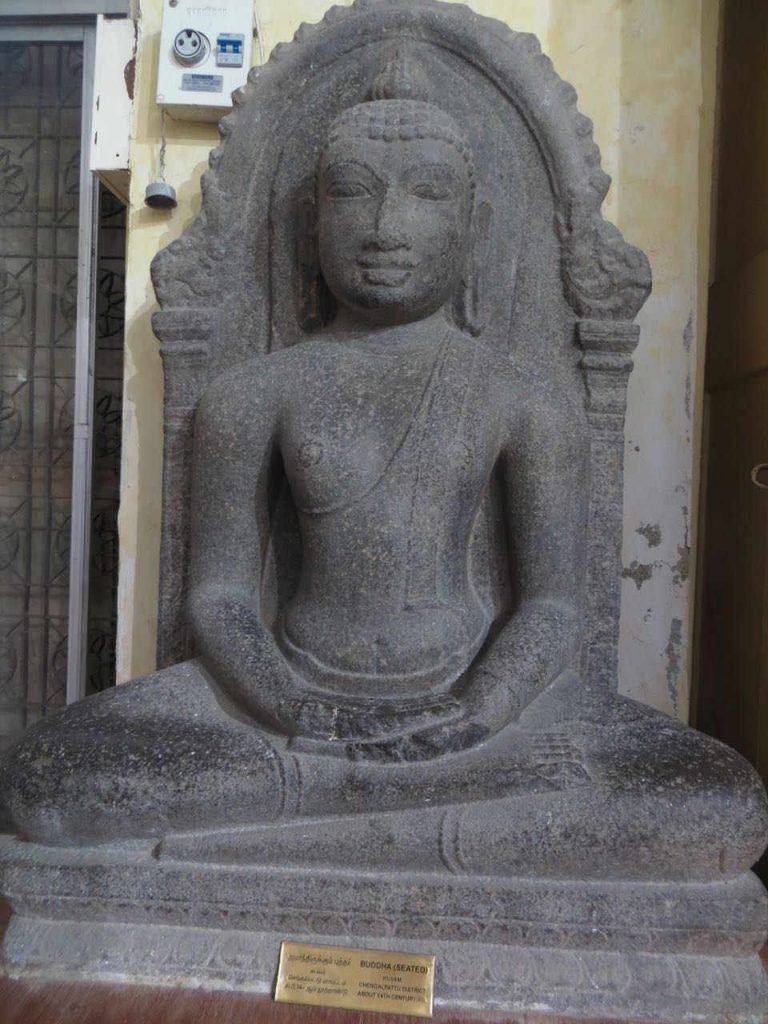 Also near Kanchi, from Koovam (Thiruvallur district), a Buddha statue was obtained that is now kept at Chennai Museum. According to the museum records, this statue is from the 14th Century.
13. Tara statue from Sholingur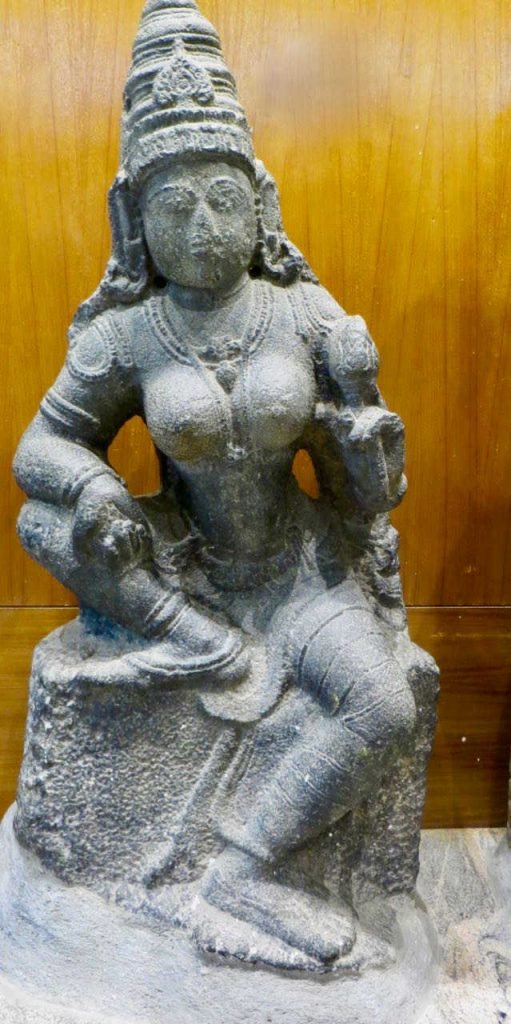 An 11th Century statue obtained from Sholingur, near Kanchi, is now kept in Chennai Museum. This may be identified to be Tara. However, the right palm is slightly folded and there is no lotus seat. It could probably be Vasudhara, the Yellow Tara of prosperity. An 11th Century manuscript of prajna-paramita-sutra preserved in Cambridge University too has a miniature painting of another statue of Vasudhara from a renowned Mahayana Vihara in Kanchi [Ref-4]
14. Avalokitesvara statue from Kaverippakkam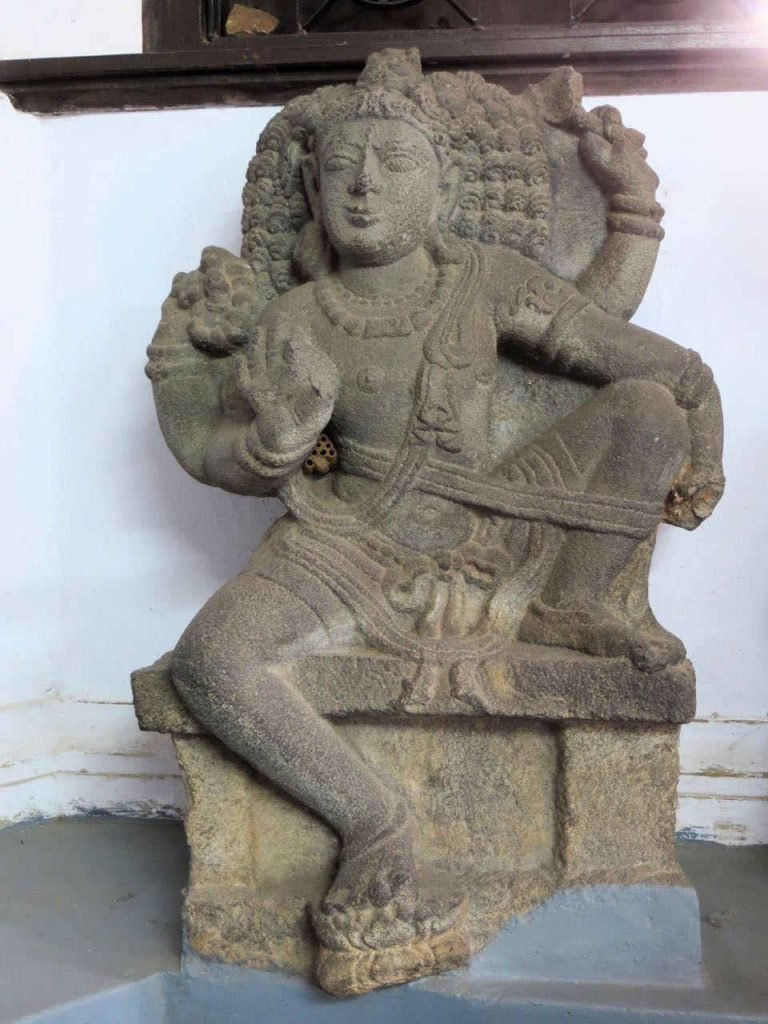 An Avalokitesvara statue obtained from Kaverippakkam near Kanchi is now at Chennai Museum. Here Lokesvara is in his yogi form with meditation belt and matted hair, a form very popular in the South. More about Avalokitesvara forms and their influence on other statues will be discussed in a later post.
Conclusion
Years back, when we first visited Kanchi, we were enthusiastic about seeing a few Buddha statues reported there as a rarity. Later, T N Gopinatha Rao's archeological records from a century ago brought more information. We also got leads from some web and news articles about Buddha statues found in Kanchi. In our recent visit, we met Mr. Chandrasekar of Kanchi who runs a Dhamma centre there. Thanks to his help, we could find a lot more Buddha statues in the outskirts of Kanchi this time.
More and more Buddha statues are being unearthed all around in Kanchi. Some of them are kept nicely in some small shrines made with the sponsorship of people from Thailand and so on. And, some others are lost. Since many Buddha statues are on the street-side and unprotected, some are stolen. Unless some action is taken by the government to secure the other statues, more of these historic monuments may be lost soon.
Exploration of Kanchi continues.
References
Ref-1 – Xuanzang. (1884). Great Tang Records on the Western Regions. (Samuel Beal, Trans.). Buddhist Records of the Western World. London: Trubner & Co. (Original text 6th century CE).
Ref-2 – K. Krishna Murthi. (1991). Glimpses of Art, Architecture and Buddhist Literature in Ancient India: Abhinav Pubns.
Ref-3 – B. V. Bapat (Ed.). (1971). Two Thousand Five Hundred Years of Buddhism.
Ref-4 – Cambridge, Cambridge University Library: Add.1643. (Aṣṭasāhasrikā Prajñāpāramitā Sūtra manuscript.).
Ref-5 – T.A.Gopinath Rao. (1915). Bauddha Vestiges in Kanchipura ,The Indian Antiquary, A Journal of Oriental Research, Volume XLIV – 1915. p.127.
Ref-6 – P.R. Srinivasan. (1960). 'Story of Buddhism with Special Reference to South India', A. Aiyappan and P.R. Srinivasan (Eds.). Buddhist Images of South India: Department of Information and Publicity, Government of Madras.
Latest posts by Yogi Prabodha Jnana & Yogini Abhaya Devi
(see all)