Buddha statue that looks like Guru Rinpoche in Mangalam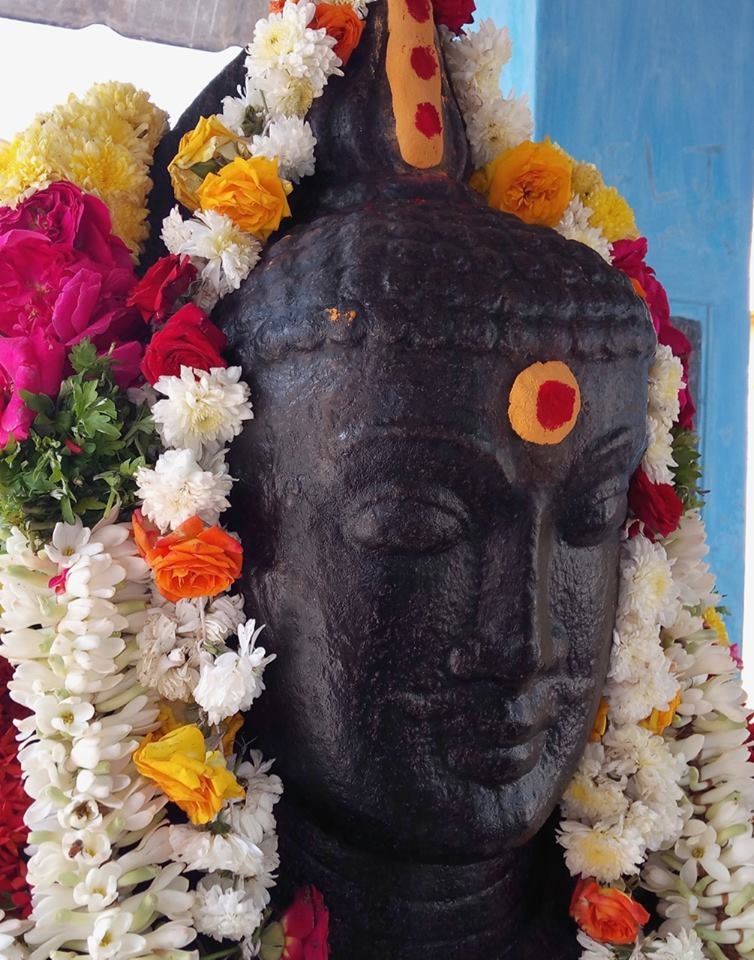 There is an ancient Buddha statue with a mustache and beard at Mangalam in Musiri Taluk of Tiruchirappalli. To our pleasant surprise, this Buddha has a striking resemblance to Guru Padmasambhava, the second Buddha who turned the wheel of Vajrayana teachings. According to the annals of the Tibetan Buddhist master Taranatha, Guru Padmasambhava (Guru Rinpoche) had visited Kanchi in Tamil Nadu and turned the wheel of Dharma there. It is quite possible that this Buddha statue that looks like Guru Rinpoche has some connection with that account. It could possibly be a representation of Guru Padmasambhava. The statue is of 6ft in height and is seated on a lion throne.
Currently, this statue is in the Aravayee Amman Kovil. The word Aravayee may be originating from 'arivu' (wisdom) referring to Buddhism. It may be noted that arivors was an epithet used for Buddhists in Tamil Nadu earlier.
People worship this Buddha statue as if it is the idol of a God. Locals call this Buddha as 'Chettiyar', may be because someone from chettiyar community there would have been associated with Buddhism earlier. Though locals do the worship as if it is a local god, they understand that it is Buddha. They are taking care of this statue well with flowers, incense and lamps.
Next to the yard where the Buddha statue stays is a newly constructed temple. The images of Dharma-wheel and Buddha are made on its roof. We came to know that it was meant to be a new home for the Buddha. However, it is unused.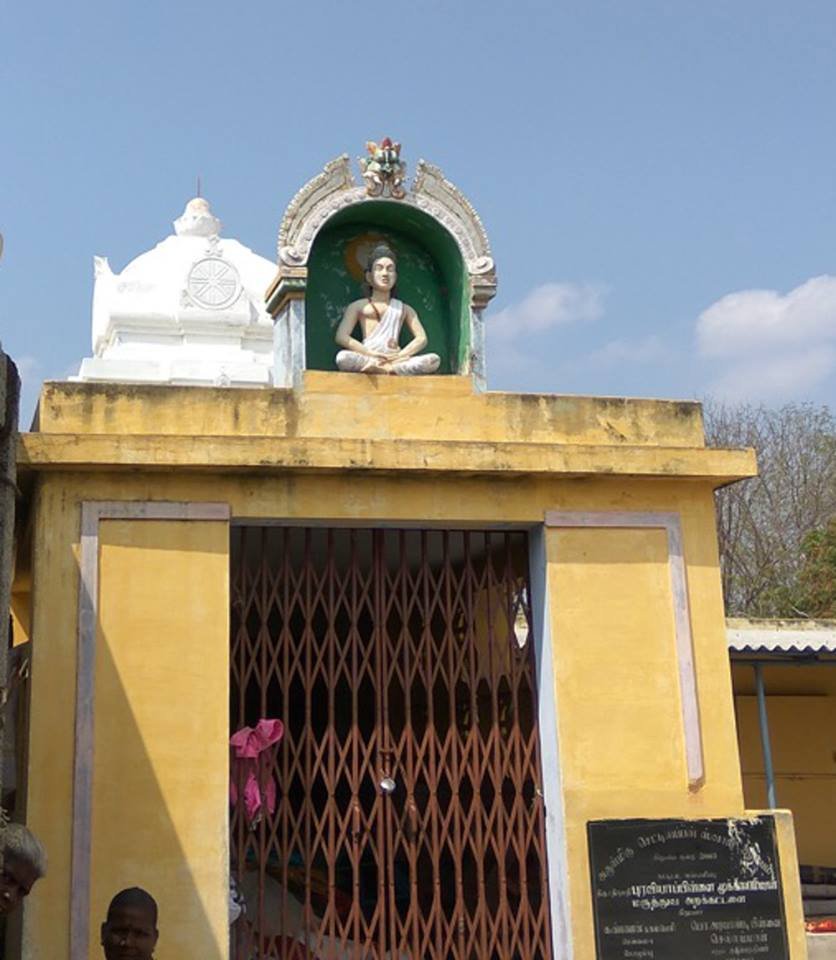 Perplexed, we checked with the people there. One old lady said as a matter of fact "Swami (the lord, the statue) said he does not want to shift into the new temple". 
Further intrigued, we asked again, "What? The Swami said so ?". 
Then the lady continued, "Yes, he said that he prefers to stay outside where he currently is. So, we abandoned the new temple." 
With the mystery deepening, we asked, "How did Swami say that? Did he speak with words?". 
She, "No, he didn't speak. But, when they tried to lift him, he refused to move."
"Refused to move?"
"Yes, the iron crowbar that we used to lift the statue broke off."
Then, we understood.
A Buddha Statue from Musiri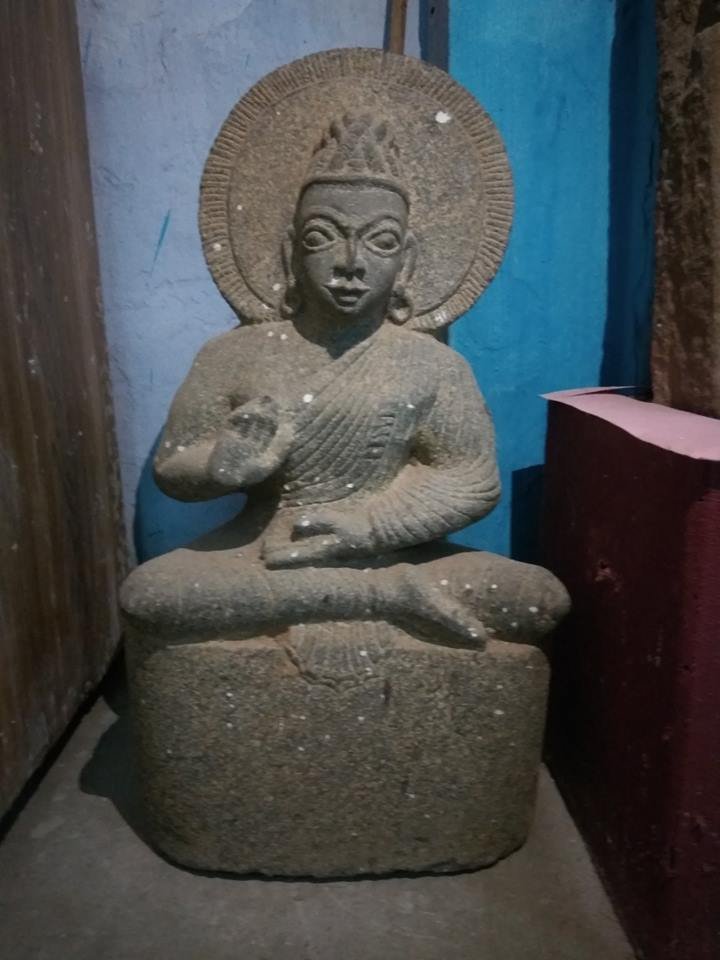 Another uncommon Buddha statue, also from Musiri taluk, is now kept in the Tiruchirappalli Museum. That statue, just about 2ft in height, has earrings and a headgear similar to a Vajrayana master. This statue and along with the Buddha statue that looks like Guru Rinpoche indicate that Vajrayana Buddhism would have flourished in Musiri.
Also see Buddhism in Tiruchirappalli – Place of an Ancient Vihara for information on other Buddha statues from this locality.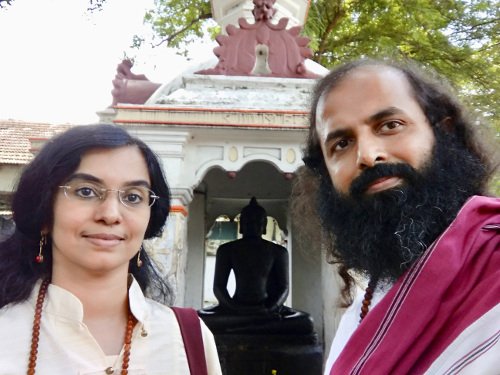 Latest posts by Yogi Prabodha Jnana & Yogini Abhaya Devi
(see all)