Buddhism in Thanjavur and Kumbakonam in Ancient Days
The cities of Kumbakonam and Thanjavur, the erstwhile capitals of the Medieval Chola Kingdom still hold rich memoirs of its glorious past. These cities are famed for their rich heritage in art and culture. Though these cities have long forgotten the Buddhist past, many magnificent statues of the Buddha and Bodhisattvas are found there, revealing the rich heritage of Buddhism in Thanjavur and Kumbakonam from its ancient period.
Buddhism survived here as late as the 16th Century CE as testified by many of the delicate bronze statues found from that period. Most of the statues from this area are in some museums, except for one beautiful stone statue that still gracefully abides in Manambadi village in the outskirts of Kumbakonam.
In addition to Buddha statues, many statues of Tara, Avalokitesvara, and Maitreya were also found in this area and are now preserved in museums.
Buddhism in Thanjavur and Kumbakonam were vibrant as late as the 16th Century CE. This is indicated by a 16th Century inscription found in Kumbeswarar Temple in Kumbakonam. The inscription mentions about a person from a Buddhist Temple at Thiruvilanthurai in the vicinity. According to that inscription, permission from the person at that Buddhist temple was obtained to dig a canal through its land. That makes it clear the Buddhism was live there in the 16th Century period.
Buddha from Madagaram
The 11th Century CE Buddha statue (given at the beginning of the article) found from Madagaram village is now kept at Thanjavur Art Gallery. The original statue is quite simple. The beautiful backdrop with prabha (aura) and the frills on the seat are the works of creativity of a museum curator during the early days of the museum, done separately from the statue. The statue is 4ft in height.
Buddha in Durbar Hall Museum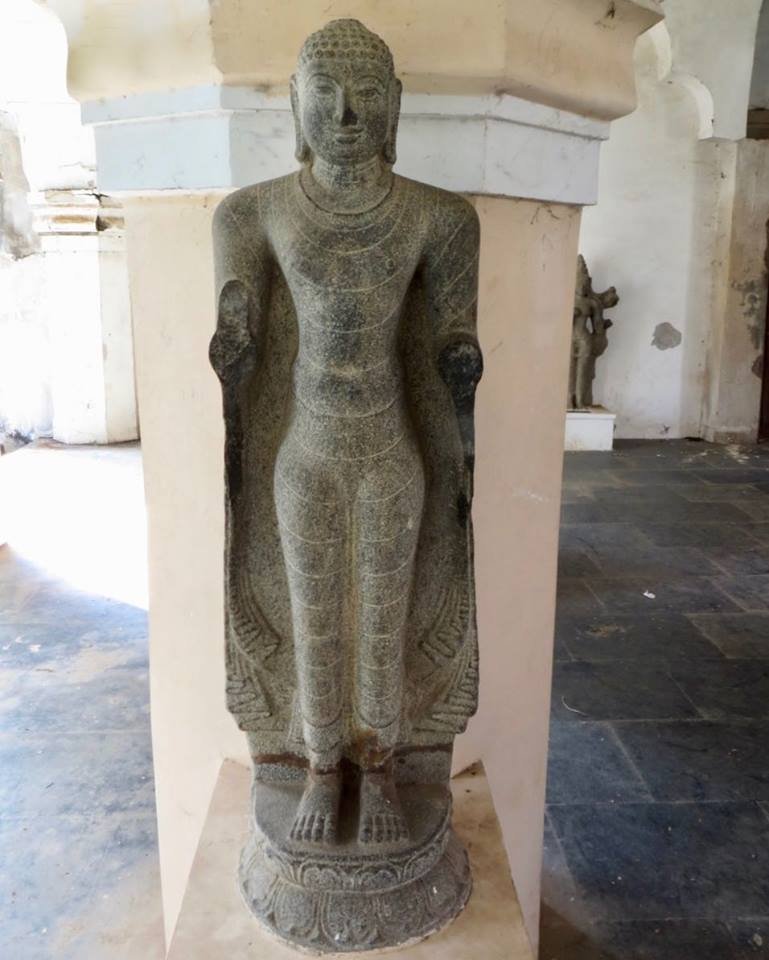 Another standing Buddha statue is preserved in the Durbar Hall Museum of Thanjavur. Unfortunately, the nameplate is lost and the original location of this statue is not known. This statue has intricate work on the drapery of the Buddha, indicating that this could be from the 12th to 14th Century period.
Bodhisattva from Thirukarukavur
A statue of Padmapani Avalokitesvara was obtained from Thirukkavur (probably, Thirukarukavur). Lokesvara is flanked by Tara and Bhrikuti on his two sides. This statue is currently kept in Tanjavur Art Gallery and is estimated (by the archeologists) to be from the 15th Century CE. Museum nameplate identifies this to be Ayyanar with Purna and Pushkala, very much in line with how two-handed forms of Avalokitesvara came to be known in Tamil Nadu.
Ayyanar is a respectful form of the Tamil word Ayya, which in turn refers to a noble being (Bodhisattva or Buddha) in the 'Path of Seeing' or beyond. As Buddhism vanished from Tamil Nadu, such Ayyanar statues were shifted from their original locations to the village periphery. Later, villagers started worshiping such statues as local guardians of the villages as they were located on the outskirts of their villages. In course of time, many new forms of local gods were added (some very huge – 10 to 20 ft – with a sword and so on) and all of them came to be known as Ayyanar. Villagers also do sacrificial offerings to these new local gods (not to the old Ayyanar that came from Avalokitesvara). The original Ayyanar statues are smaller in size (1 to 5ft) and have the peaceful form of Padmapani Avalokitesvara, just like this one.
Buddha from Manambadi
A beautiful Buddha statue from the 11th-12th Century period can be found at Manambadi Vadabhadrakali Temple. This statue is about 4ft in height. Originally, this statue was near an Ayyanar temple. After a theft attempt, they protected the statue with some fencing. However, a gang of antique thieves stole this statue later. Afterward, they were caught and the statue was recovered. Since then, the statue is kept in the compound of this temple for safekeeping.
Tara in Thanjavur Art Gallery
Thanjavur Art Gallery also hosts an ancient Tara statue made of granite stone. The Tara is seated on a lotus and holds an utpala flower in her right hand. Unfortunately, the nameplate with the location details is missing for this. The museum staff wasn't particularly helpful in digging out the details from their records either. So, we do not know from which location this statue was obtained.
Buddha from Thiruvalanchuzhi
A standing Buddha statue of about 7 ft in height was found at Thiruvalanchuzhi (in Kumbakonam). This statue from the 11th Century CE is currently preserved in Chennai Museum. The urna (the mark on the forehead of the Buddha) is more developed in this statue (like a nada) than the usual dot seen on many other statues in Tamil Nadu.
Buddha from Cholanmaligai
An ancient Buddha statue found from Cholanmaligai near Kumbakonam is currently preserved in the Durbar Hall Museum of Thanjavur. Archeologists estimate this to be from the 9th to 10th Century CE.
Maitreya in Thanjavur Art Gallery
Ancient Maitreya statue in Tamil Nadu – This beautiful statue of a standing bodhisattva was obtained from Senthalai, closer to the east-cost and not far from Nagapattinam. This statue is preserved in Thanjavur Art Gallery. Archeologists estimate this to be from the 9th Century period. This stone statue has the upper garment similar to the Rashtrakuta style of sculpting. This seems to be a two-handed form and the third hand seen in the middle part could be of another sculpture on its side. This statue is very similar to a later Bronze statue of Maitreya found in Thanjavur from a similar period.
Buddha from Patteeswaram
This ancient Buddha statue from Patteswaram near Kumbakonam is currently kept in Thanjavur Art Gallery. This statue is about 5ft in height. Archeologists estimate this to be from the 15th Century, but the basis for such a later date is not clear. This statue also has a developed urna in the style of nada.
Buddha panel in Brihadeeswarar temple
The famed Brihadeeswarar temple in Thanjavur has a couple of wall panels on the outer prakara with the image of Buddha under a Bodhi tree. However, this is a Siva temple, and the inclusion of Buddha along with many other figures on the wall only indicate an atmosphere of the harmony existing during that period (the 11th Century).
Bronze Buddha in Thanjavur Art Gallery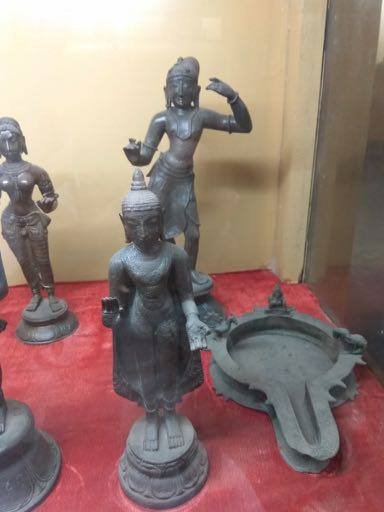 Thanjavur art gallery also has a small bronze statue of standing Buddha of about 8inches in height. The details such as its original location are not marked. The museum staff wasn't particularly helpful in digging out the details from their records either. However, as the style of the statue matches with the Nagapattinam statues, it can be safely inferred that it is from Nagapattinam or surrounding areas.
Latest posts by Yogi Prabodha Jnana & Yogini Abhaya Devi
(see all)